We usually focus on specific destinations for you to visit and we enjoy doing that almost as much as you enjoy reading them! Who doesn't like to dream about the next exciting place you can go and experience? At some point, we all need to get away from stress, rejuvenate our senses, and work on mental recharge, right? In this post, the Skycap News™ team is going to show you some great ways to save for a vacation. Because let's face it, the more money you have to spend, the better your vacation will be!
Great Ways to Save for Travel
Here are some ways you can great ways to save for that dream vacation starting now:
Tip #1
Discover online savings plans at your bank of choice. This seems simple and everyone knows it's not easy saving when you want to spend. If you need some extra financial motivation, remember the end reward is an awesome trip. I found two great ideas to help you do this that will not require you to dig into your vacation fund to pay for something else. That way, when you really need the vacation money, it will be there. The first way is to open a separate account for your vacation fund.
By setting up an entirely new account, you lower the risk that you will accidentally spend your vacation reserve before you get to your vacation date. Decide on a monthly amount you can deposit to the fund. Then establish a deadline for withdrawal, which will coincide with your planned vacation. If you are disciplined enough to deposit a small amount each month, you should have the money you need when you get ready to go on vacation.
Another related way to start and keep a working vacation fund is to check out various banking apps such as Acorns. This is a mobile-only banking solution I found out about recently. I absolutely love it and I think you will too. It allows you to instantly invest spare change while you establish goals that are specific to individual needs.
Rest assured, we're not advocating for any savings platform specifically. We are not getting paid for mentioning any savings banks in this blog. Nonetheless, we wanted to make you aware of this as a simple but straightforward approach to saving money daily. Staying dedicated and focused is critical to success. These traits will allow you to use your mobile bank card for other things while helping you save toward a specific goal.
Tip #2
Become an eBay seller. I do sell on eBay myself on a regular basis, but you may want to just do this once in a while, in order to clean out your garage or house of extra items, make some hard, fast, cash, and promote your ideas. Whatever the reason, the cash you generate on eBay can certainly help fund your vacation savings in the near future. So look around the house, and start listing!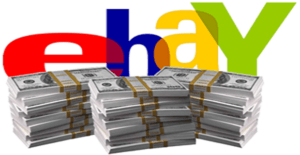 Tip #3
Cash in some stock gains if it won't derail your long-term financial goals. If you have any kind of investment securities that have accumulated some significant "bull market" gains, you could cash these increased gains (leaving the principal intact) and turn them into a temporary vacation fund. Please don't use retirement income or some other priority money you know you will need for something else. If your overall finance allows, you could cash in on some of your extra "on the house money" assets for a vacation. Then reinvest the money after your vacation is over.
Keep in mind, we're not investment or financial experts! However, we have utilized various creative strategies appropriate for our lifestyle and income to fund our worldwide travel! While several Skycap News contributors have done extremely well in the stock market over the years, we would never claim to be financial experts, these are just some hard and fast ideas to free up some extra greenbacks to go on that vacation. We don't suggest cashing in anything of worth that you need for something else. But if you are looking for cash flow, these are some avenues you might want to explore. Bankrate.com has a few other ways you can save for vacations on their site.
Great Ways to Save for Travel Summary
For those of you that don't like financial surprises, consider an up-front "all-inclusive" super tourist resort such as Sandals or super private Hacienda del Mar located in the beautiful Pearl Islands of Panama. Remember, money isn't everything, but it does let you afford more things than if you didn't have much of it! So think ahead, start saving, and enjoy your trip!