It's sad but true. . .  most travel experts offer a vast array of "what to bring" on your trip but, few ever advise "What NOT to bring!" The staff at Skycapnews.com firmly believes it's just as important to add to a successful trip by the process of elimination.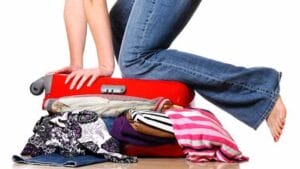 Here are some items to think about taking OFF your travel list:
Extra clothing? Most travelers tend to overpack. Do you actually need that many tops, pants, or dresses? If you are typically spill-prone, it is likely not worth it. By cutting back on the remainder of your wardrobe, you can save a great deal of room and hassle. Extra shoes? Footwear discipline will save you lots of space. One pair for the fitness center and one pair for professional purposes should suffice.
Although somewhat pricey, most hotels offer laundry service and/or dry cleaning in case you encounter an absolute "cannot wait" wardrobe emergency. If you find yourself on the spillage end during a big city business dinner with clients chances are you can skip the treadmill the next day and walk to the nearest dry-cleaner. 
Books?  Not with today's technology! They are way too bulky and heavy. Leave them at home and purchase an iPad, Kindle, Nook, or other tablet device. Your smartphone and laptop can perform many of today's job functions or entertainment for that matter. Repeat after me; "If you do not absolutely need it, leave it!" If you are "old school" and prefer printed matter on the plane, purchase your favorite magazine in the airport and share it with another passenger when you are finished reading. Make a new friend and lighten the load as well!
The final recommendation will probably be better suited to our male audience. Honest, we are not being chauvinistic or judgmental, we know how sensitive our lady friends are in regard to their "must-have" cosmetics and toiletries. You're probably staying in a hotel or with family/friends. Toiletries are provided by hotels and let's hope your family will share their products of choice. The worst-case scenario is you can buy toiletries at the local drugstore or supercenter.
Drinks? Surely you jest? Every ounce of liquid poses a potential spillage and increased weight risk. Unless it's a desired vintage wine (better pack it well) and something one cannot purchase "at home," it's definitely best to forgo anything liquid.
Take a minute to carefully choose best luggage for your next trip whether it's for business or pleasure. Lighten your load before the airline(s) lightens your bank account with those ridiculous baggage fees!