Seychelles is an archipelago of 115 islands in the Indian Ocean, off the coast of East Africa. Seychelles is unique in that only some islands are inhabited by people while other islands serve as home to giant tortoises, seabirds, and an abundance of other wildlife. If you love being outdoors, you will love your time here. There are many white-sand beaches that are well known for diving and snorkeling. If that's too adventurous, there are many other spots just to relax. Some of the sensational things to do in Seychelles are listed below.
Things to Do in Seychelles
Stunning Anse Lazio
This is among the most beautiful beach in the world. This is a "must-see" place that you should visit while you are in Seychelles. This beach is also the best place to take an Instagram-worthy picture. Soft white sand, granite rock formations, and turquoise water. Beautiful beyond belief! The beach is also the best place to swim, sunbathe, and just stroll around. Although outside of the designated swimming area of the beach is quite deep, there is a lifeguard on duty to keep you safe.
Curieuse Marine National Park
This park was formerly called Ile Rouge due to its beautiful red soil. The park is among the two islands that you are going to find Coco de Mer palm trees. These trees are among Seychelles' iconic cultural symbols. You are going to see giant bump head parrotfish and giant tortoises around this park. This park is also home to a great trail that leads through the mangroves to Anse Jose. It features an old colonial house that has been transformed into a museum which is definitely worth checking out.
Visit Baie Lazare, Mahé
This is a pretty village that was named after the 18th-century French explorer Lazare Picault who landed here while he was exploring the islands for the French government. The highlight of the town is the Neo-Gothic Baie Lazare church where you will get to see a scenic view of the area. You can also go relax at the magnificent beaches of Anse Soleil and Petite Anse which feature beautiful azure water and dazzling white sand. Baie Lazare beach is pristine and peaceful and most definitely worth the drive from Victoria.
Explore Port Glaud Waterfall
The Port Glaud Waterfall waterfall is a perfect break from the beach. If you need one, that is! This beautiful waterfall is relatively accessible by car or a 10-minute walk up a steep road. The hike is short, although slippery and steep, indeed. Yes, you can do it without a guide. However, it might be easier to trek on a guided tour. Once there, you will be rewarded with a mesmerizing view in which will reward you with a refreshing swim. There is a large rock formation that surrounds the waterfall pool that you can just rest and have a picnic while you enjoy the scenic view.
Cousin Island Special Reserve
This is a 34 hectares large island that was declared a nature reserve in 1975. It is located just 2km from the island of Praslin. The reserve homes over 300,000 nesting seabirds that come here every year. It is home to five species of birds that can only be found in Seychelles. You will also get to see the diverse fish population in the waters that surround the island. You can visit here from Monday to Friday but are closed on weekends and public holidays.
Golf at Lémuria Hotel
One of the best things to do in Seychelles is to "tee it up" on an 18-hole championship golf course that is located at the Constance Lemuria Hotel and have fun. The course is regarded as a challenging course for golfers of all levels. In fact, most golfers will find the back nine holes very difficult. You will also enjoy the scenic views at the elevated cliff-top tee position. The 15th hole tee box overlooks the famous Anse Georgette beach. You should try to book ahead before coming here. Especially if you are not staying at the hotel. If golf is not your thing, the resort offers a myriad of luxurious indulgences for guests of all ages.
Cycle La Digue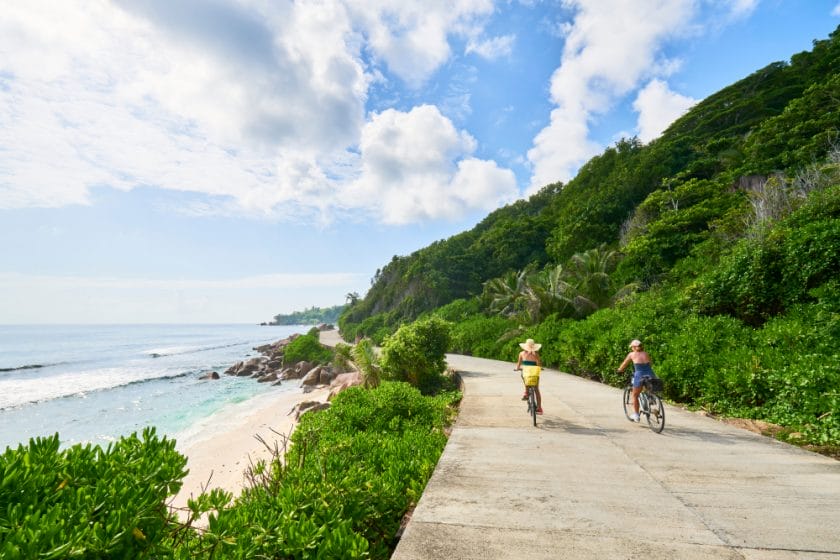 Cycling is the best way to get around La Digue. As you step off the La Digue Ferry, you are going to see plenty of options for you to hire a bike. Many hotels in La Digue also provide bikes for free if you are staying as a guest. One of the top sites in this town is the traditional copra mill and kiln. You can get close to giant tortoises and go sightseeing at the plantation house with the many tours that are available. You can also visit the Anse Source d'Argent which is among the most photographed beaches in the world.
Things to Do in Seychelles
In conclusion, what's not to love about Seychelles? The tropical oceanic climate is close to perfect, with little temperature variation throughout the year. Temperatures typically rise to the 80s F (30s C) in the afternoon, lowering to the 70s F (20s C) during the night. The scenery is of unequaled appeal, and the beaches are some of the best on the planet. All in all the aforementioned attributes of this exotic country offer a bucket-list variety of breathtaking things to do in Seychelles.