After North Korea, Turkmenistan is probably the most secretive country in the world. Ruled by an extravagant autocrat, Gurbanguly Berdimuhamedow, little is known about the country's response to COVID-19, for example. It may come as a surprise to know then that travel to and within Turkmenistan is possible. It isn't easy to acquire a visa, but it is possible with the help of a reputable Turkmenistan tour operator. If you fancy a trip to Central Asia, you'll want to know a bit about this unusual country. So sit back and enjoy some of these amazing facts about Turkmenistan. A warning, some of them are very strange indeed!
Amazing facts about Turkmenistan
The President is a Former Dentist
After the death of President for Life, Saparmurat Niyazov, in 2006, Turkmenistan came to be ruled by Gurbanguly Berdimuhamedow. A former dentist, he served as Health Minister in the previous government before becoming president. Perhaps more interestingly, the president has a range of supposed skills and hobbies. Many of which (ironically) have found their way to Youtube. Videos show the president singing, rapping, horse racing, and DJing. He also writes the most popular books in the country. Much of this is propaganda used to fuel the president's cult of personality. A major factor in the existence of many autocracies.
The Previous President Imposed the Walk for Health
Before his death, President Niyazov was perhaps an even more unusual ruler than Berdimuhamedow. Feeling that his government was getting out of shape, he created a steep 37km trail along the Kopet Dag mountains near Ashgabat. Niyazov then mandated that all ministers, members of parliament, civil servants, and Ashgabat residents had to walk the entire trail at least once per year.
Bear in mind that Turkmenistan has one of the most extreme climates in the world! Did Niyazov ever complete the walk himself? Of course not! Every year he would watch his staff start the walk. Then Niyazov would fly in his helicopter to the end to greet them! The "do as I say, not as do, directive might be one of the strangest facts about Turkmenistan. At this point, are you surprised?
Ashgabat holds three Guinness World Records
President Berdimuhamedow is an unusual chap as you may have concluded already. One thing he is obsessed with is world records. His entire capital city, Ashgabat, has been constructed to satisfy this obsession. As a result, the city holds several world records. Ashgabat has the highest concentration of white marble-clad buildings in the world.
Another interesting record is possessing the highest number of fountain pools in a public space. Perhaps, the most surprising is the world's largest indoor Ferris Wheel – built at the eye-watering cost of £57 million. I'm not making up these facts about Turkmenistan, I promise! The white marble buildings are an extraordinary sight to see. If you do make it into the country, then you won't be able to believe your eyes.
Turkmenistan is Home to a Burning Crater
That's right, not far from the capital city of Ashgabat lies the Darvaza Gas Crater. This man-made topographic attraction is known locally as the Door to Hell. One of the most unusual things you'll see on a Turkmenistan tour, the Darvaza Gas Crater, was created by accident in 1971. Under Soviet rule at the time, Russian oil drillers accidentally released gas into the open atmosphere.
This mishap caused the ground to collapse, creating the crater that remains in place today. However, rather than admit defeat, the Soviets tried to burn the escaping gas off by setting fire to it. Things didn't go quite to plan, and the crater has been burning away ever since. Camping by the crater is an incredible experience and one of the best things to do in Turkmenistan.
Turkmenistan has a Government Department for Horses
The Akhal-Teke is one of the rarest and most sought-after horse breeds in the world. The Akhal-Teke has a reputation for strength and speed due to its evolution in the tough climate of Turkmenistan. An entire government department, known as Turkmen Atlary is responsible for breeding, training, and looking after the Akhal-Teke's. It is the sole responsibility of the Horse Minister to ensure the continuation of a healthy bloodline of the species in Turkmenistan. If the opportunity presents, one can see these impressive creatures racing in horse-mad Turkmenistan.
Don't Plan on Getting Social in Turkmenistan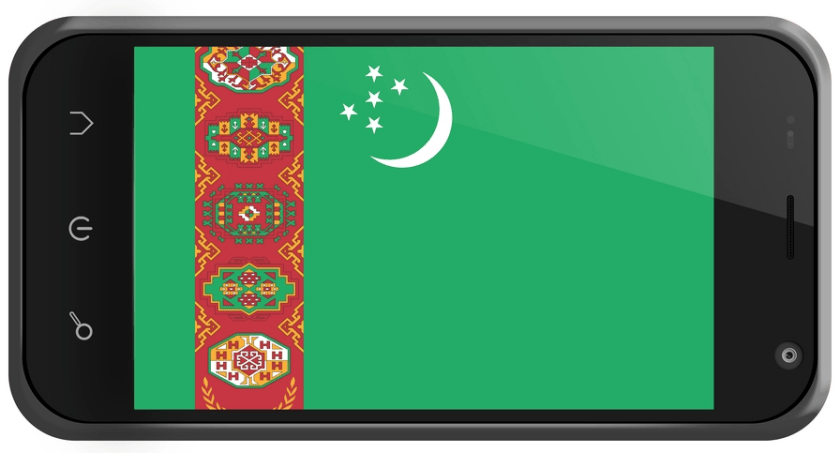 Don't expect to be able to post photos of your Turkmenistan tour on Facebook or Instagram until you leave the country. Talk about social distancing! All social media and most phone applications won't function within the country. This restriction is definitely not on the list of positive facts about Turkmenistan. You won't even be able to access your emails. Another classic move by an autocratic regime!
Facts about Turkmenistan Tour Recap
In conclusion, Turkmenistan is perhaps the most unusual country globally, which acts as a certain drawcard for intrepid travelers. Reputable tour operators should be able to get you a visa for the country. It is entirely possible to combine a Turkemistan tour with more conventional countries. Why not combine seldom-seen parts of the world and visit Uzbekistan, Kyrgyzstan, and Tajikistan for a true Central Asian adventure? You might not achieve any world records, but how many travelers truly experience the amazing facts about Turkmenistan first-hand?