Are you looking for an exciting adventure on two wheels? Consider a motorcycle road trip Canada. With its vast and varied landscapes, Canada offers some of the best motorcycle rides in the world. From the rugged coastline of Nova Scotia to the majestic Rocky Mountains of British Columbia, there's something for every rider. Traveling by motorcycle lets you experience Canada's natural beauty up close and personal.
You'll feel the wind in your face as you ride through stunning scenery, passing by lakes, rivers, mountains, and forests. Whether you're an experienced rider or a novice, there are plenty of routes to choose from, each with its own unique charm. So, pack your bags, grab your helmet, and get ready for the ride of a lifetime.
Planning Your Trip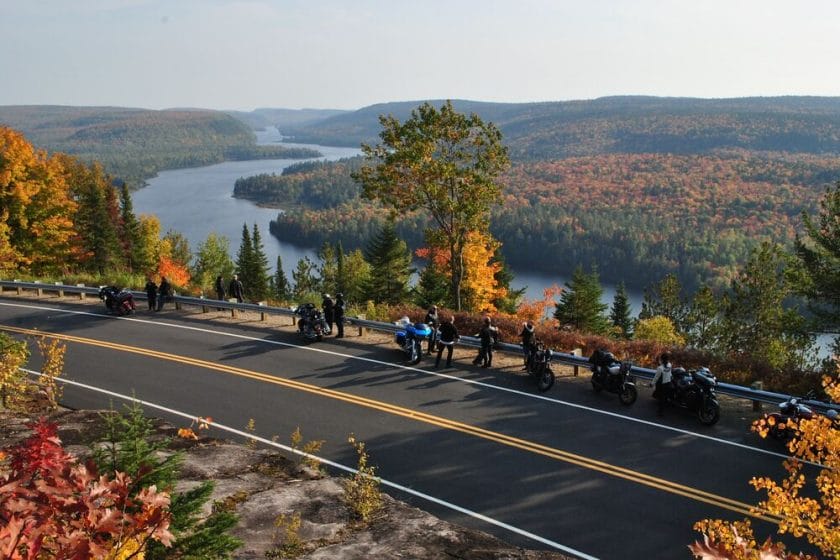 If you're planning a motorcycle road trip Canada, there are a few things you need to consider before hitting the road. Here are some important factors to keep in mind when planning your trip.
Choosing Your Route
Canada offers a variety of scenic routes for motorcycle tours. Some popular routes include the Canadian Rockies, Highway 3 (Crowsnest Highway), and the Sea-to-Sky Highway. British Columbia (BC) and Alberta are particularly popular provinces for motorcycle tours, with plenty of beautiful scenery along the way. Consider your riding experience and preferences when choosing a route, as some routes may be more challenging than others.
Best Time to Go
The best time to go on a motorcycle tour in Canada depends on the region you plan to visit. In BC, the riding season typically runs from May to October, with the summer months being the most popular.
The Canadian Rockies can be ridden from June to September, with July and August being the busiest months. Fall can be a great time to ride, with cooler temperatures and beautiful autumn foliage. However, be aware that some routes may be closed due to snow in the fall and winter months.
Essential Gear
When packing for your motorcycle tour in Canada, be sure to bring essential gear to keep you safe and comfortable on the road. Here are some items to consider:
Helmet: A DOT-approved helmet is required by law in Canada.
Riding gear: Invest in quality riding gear, including a motorcycle jacket and pants, gloves, and boots.
Rain gear: Be prepared for rain by packing waterproof gear.
Navigation: Bring a GPS or map to help you navigate your route.
First aid kit: Pack a first aid kit in case of emergencies.
Tool kit: Bring a basic tool kit in case of mechanical issues.
Considering these factors and packing essential gear, you can ensure a safe and enjoyable motorcycle trip in Canada.
On the Road
When planning a motorcycle road trip Canada, there are a few things to remember to make the most of your journey. Here are some tips to help you navigate the provinces, find scenic stops, and stay safe on the road.
Navigating the Provinces
Canada is a vast country with diverse landscapes and cultures, so planning your route carefully is important. Consider which provinces you want to visit and how much time you must explore. New Brunswick, Nova Scotia, and British Columbia are known for their scenic motorcycle rides, but other provinces also have great routes.
When you're on the road, be aware of the rules and regulations for each province. For example, in British Columbia, motorcycles must have daytime running lights; in Alberta, helmets are mandatory for all riders. Ensure you have all the necessary paperwork and insurance for each province you'll travel through.
Scenic Stops
One of the best things about a motorcycle road trip is seeing stunning scenery along the way. Some of the most scenic routes in Canada include the Sea to Sky Highway from West Vancouver to Squamish, BC-1 from Vancouver to Revelstoke, and the Icefields Parkway through Jasper National Park.
Take advantage of the many scenic stops along the way, such as lookout points, waterfalls, and historic sites. Plan your route to include these stops, and be open to unexpected detours and discoveries.
Safety Tips
Motorcycle travel can be exhilarating, but it's important to prioritize safety on the road. Always wear a helmet and protective gear, and make sure your motorcycle is in good condition before setting out. Check the weather forecast and road conditions before each leg of your journey. Be aware of other drivers on the road, especially in busy cities or tourist areas. Stay alert and avoid distractions such as texting or taking photos while riding.
Finally, ensure you have a plan in case of an emergency, such as a breakdown or accident. With these tips in mind, you're ready to hit the open road and explore the beauty of Canada on your motorcycle. Whether summer or spring, there are endless possibilities for unforgettable rides and experiences.
Sights and Activities
If you're planning a motorcycle road trip Canada, there are plenty of sights and activities to keep you entertained along the way. Whether you want to explore the mountains, enjoy coastal adventures, or venture into the wilderness, Canada has something for everyone.
Exploring the Mountains
Exploring the mountains is one of the best ways to experience Canada's natural beauty. If you're riding through British Columbia, make sure to check out the Pacific Rim Highway.
This stunning route takes you through the rugged mountains of Vancouver Island and offers breathtaking views of the Pacific Ocean. Along the way, you can stop in the charming town of Tofino, known for its surfing and whale watching.
Coastal Adventures
Canada's coastline is another must-see destination for motorcycle enthusiasts. If you're riding through Vancouver Island, don't miss the chance to explore the charming city of Nanaimo.
This coastal town offers plenty of outdoor activities, including kayaking, fishing, and hiking. You can also take a scenic ferry ride to the nearby Gulf Islands to explore the pristine beaches and quaint seaside villages.
Wilderness Excursions
If you're looking for a more rugged adventure, Canada's wilderness offers plenty of opportunities for exploration. Take a ride through the stunning Canadian Rockies and explore the rugged terrain of Banff National Park. Along the way, you can stop to hike to stunning waterfalls, soak in natural hot springs, and spot wildlife like elk and grizzly bears.
Canada has plenty to offer motorcycle enthusiasts, no matter what type of adventure you're looking for. From stunning mountain ranges to charming coastal towns and rugged wilderness, there's something for everyone on a motorcycle road trip through Canada.
Motorcycle Road Trip Canada Conclusion
Congratulations on completing your motorcycle road trip Canada! You have experienced some of the most beautiful and challenging routes that Canada has to offer. From the stunning Icefields Parkway to the winding roads of Nova Scotia, you have seen some of Canada's best.Canada offers many motorcycle routes that cater to all skill levels. Whether you are a beginner or an experienced rider, there is a route for you. The Icefields Parkway is a must-see for any motorcycle enthusiast. The breathtaking views of the Canadian Rockies are truly unforgettable.
Don't forget to check out the Motorcycle Riding Groups in Canada to stay updated on the latest news and events in the biker community. This site is a great resource for finding new routes and connecting with other riders. Overall, Canada is a fantastic destination for a motorcycle road trip. Its beautiful scenery, challenging routes, and friendly communities make it a must-see for motorcycle enthusiasts. So pack your bags, hit the road, and experience all a motorcycle road trip Canada offers for your next adventure!