It's hard to imagine a place more breathtaking in beauty than British Columbia, on the west coast of Canada. If you plan to travel to Oregon or  Washington State on your next vacation, consider traveling up to B.C. after your stay in Washington, or go by plane straight to British Columbia.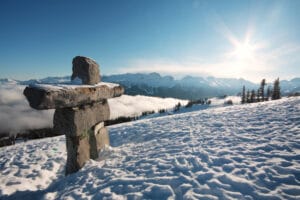 You may have seen one of many beautiful travel documentaries on this picturesque place, and with good reason. This YouTube video is one of several that serve as an introduction to this historic landscape with its many high-reaching monoliths and coastal views, as well as rich Canadian scenery.
What to Do in B.C.
If you're wondering what kinds of things you can do while in British Columbia or what to see, we've compiled a list of some of the more interesting sites. But this list is by no means, exhaustive, so feel free to explore yourself for more adventures. Without question, British Columbia is unanimously declared one of the favorite spots by the well-traveled staff at Skycap News.
Vancouver Island
Vancouver Island, located off Canada's Pacific Coast, is known for more than just its potential for whale watching and pristine coastal views. It also has a thriving arts community which is evidenced in places like Gallery 8, which displays and represents some of the best area artists of various mediums, including painting, sketching, and pottery.
Victoria, British Columbia
On the southernmost point of Vancouver Island is Victoria, which is the capital of British Columbia. Tour the famous  Craigdarroch Castle, try your hand at kayaking, and enjoy fishing and wildlife tours any day you want. If wine-tasting is your thing, try one of the many wineries or English pubs and try your favorites. There is the Victoria Film Festival, which always brings in a bit of culture, if you enjoy that sort of art, or just shop or tour one of the many museums along the way.
British Columbia – Kootenay Rockies
The Kootenay Rockies are unique, just like their name. Located close to the Okanagan Valley, this area of non-stop grandiose mountaintops will delight even the most skeptical of tourist. There are vineyards and wineries that surround the area and the Kootenay area features endless vistas of picturesque scenery and parks. When touring this area, don't forget to visit Haida Gwaii, one of the most gorgeous landscapes in the world.
Great Bear Rain Forest
Another interesting locale to visit while in Vancouver and Victoria, B.C. is The Great Bear Rain Forest. It is located on the mainland of B.C. and covers more than 250 miles. This is where the oceans, forests, mountains, and rain meet, which results in a humid but refreshing climate of rich streams and water-laden gardens. The Great Bear Rain Forest is one of the largest remaining coastal rain forests on our planet today.
Well, if you have plans to come to British Columbia, you can start with these locales and see if they are as great as they sound. A lot of people seem to think so and that's why beautiful British Columbia is so often a focus of videographers and photographers worldwide. When traveling to Canada, it's definitely something you won't want to miss!