Well, it's not spring yet, but some are already making plans to head to the beach for spring break, or later in the coming summer months. If you don't make hotel reservations now, it's hard to guarantee they will be there when summer arrives, so now is the time to start planning. The issue of "beach house vs. condo" always surfaces when planning a trip to the beach. So, how do you choose which one is best when making vacation plans?
I have always preferred a beach house, ever since my sister had us all stay with her right on the beach of Destin, Florida several years ago. It was a great vacation and we could look out and see the ocean anytime we wanted to, or view it easily from our porch. Beach Houses offer a "home away from home" feeling that you just can't get with a condo as much, though they are similar. It sort of feeds a fantasy, you might say, by making you feel that it is your own house while you're there.
Advantages to Beach House
There's plenty of room to run around in the house and cook, watch TV, feel free, and listen to the ocean waves outside. Beach houses in the Destin, Florida area range in price from $1000 for one week to $3500, depending on how much house you want! If you have larger groups, you may want to ask some members to chip in, as this can get costly. There are moderately priced beach houses too. Try this beach house directory in the Emerald Coast area as a frame of reference. What I have always done is to find out as much as possible about a particular house and call the owner to see when it's available. Many listings are online, but you need to book early. Many of these fill up early in the year so try to book at least 6 months in advance.
Advantages to Condo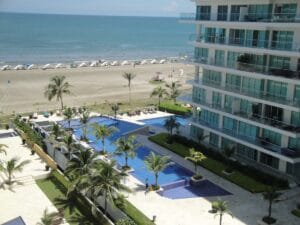 Condos offer a nice alternate to beach houses and they come in either multiple units or single and double units. The single and double units feel more like a beach house, as they tend to stand alone and offer more solitude and privacy from "the crowd." Multiple units feel more like large hotels, though they are much nicer and generally more pricey than hotels. Visit http://www.ecvr.com/rentals to see some of the current listings of condos for the Destin, Florida area.
Other Alternatives
If you don't want to pay the higher price you often find among condos or beach houses, you may want to just default to renting a hotel, like you would in any location. Hilton Worldwide property Kingston Plantation is another one of my favorite hotel resorts located in Myrtle Beach, South Carolina. While this is a much more economical choice in general, what you lose is the feeling of independence you get with condos and beach houses and the more pampered feeling and ocean views that often come with beach house and condo arrangements.
Beach House or Condo Conclusion
Whatever you choose for your accommodations, whether it be in Florida or any other beach hose or condo location, seek out sound travel advice, travel tips and do your homework beforehand. If you're headed to the beach, it pays to look up information on properties you are considering renting far in advance, before the beach fanatics start booking and traveling for the summer!