As we enter the hottest months of travel for most of the world, the staff at Skycap News™ would like to bring attention to an important safety item that most totally ignores before it's too late. How many people have ruined at least part of their vacation via "lobster-like" first-day sunburn which then turns into several days of itchy peeling? This article will offer some general travel advice on how to enjoy your vacation while still be able to "worship the sun."
Skincare Tips and Tricks On Vacation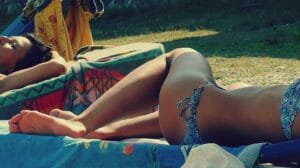 Almost anything we experience in life comes with risks and tanning is no exception. Many travelers turn to indoor tanning before their trip of a lifetime. That's why professional indoor tanning facilities promote a balanced message about indoor tanning and educate their patrons about the potential risks of UV overexposure both, indoors and out, even while Setting up a Camping Vacation.
Professional indoor tanning salons (as they should) believe in teaching moderation and sunburn prevention to minimize the risks associated with UV exposure. Getting you a beautiful tan starts with educated skincare technicians evaluating your skin type, setting a moderate exposure schedule, issuing protective eyewear, and implementing other safety screening techniques.
The individual that follows professional advice generally radiates excellent health and vitality while exhibiting stunning suntanned skin. Typically, that kind of glow needs more than simply slathering on any old body and/or facial item. A healthy lifestyle and terrific skincare routines produce radiant, youthful-looking skin. So what you put in your body is similarly as essential as what you place on it.
Travel Tips for Naturally Stunning Skin
Taking in too much-refined food, such as sugar, can drain the body of important vitamins and minerals. Consume foods that are abundant in vitamins and vital fatty acids, such as fruits, vegetables, and fish. Working out brings more oxygen to your skin cells, leaving you with skin that's nourished and more firm. Research studies show that too much tension can possibly exacerbate skin conditions, such as acne and hives. Remember, your goal should be to find at least 5 Restful Things to Do While on Vacation!
Sunburn Prevention – Moderation is Key
Sunscreen is an important product for outdoor sun care and sunburn prevention. Sunscreen can be a natural or chemical-based product that can be likened to like cough syrup; You use it only when you need it. Sunscreen is rated in various "low to high" SPF factors and should only be used when sunburn is possible.
The professional tanning community today teaches proper sunscreen usage as part of a total skincare regimen. Sunscreen should be used to prevent sunburn; Period! Using sunscreen every day, even when sunburn isn't possible, isn't a good idea for several reasons.
Products with really high SPFs could additionally motivate people to disregard various other photoprotective actions, like looking for shade periodically and also using sun-protective garments. By protecting against sunburn, sunblocks with quite high SPFs could produce an incorrect complacency among tanners to push the envelope even further time and sun exposure-wise.
Direct extended exposure to the sun can trigger premature aging and skin blotting, enhancing your danger of skin cancer. Apply sunblock daily and use head cover whenever possible. Physical activity (i.e. working out) brings more oxygen to your skin cells, leaving you with skin that's nourished and more firm.
Tanning customers are required to read and sign consent forms that include warnings about potential risks associated with indoor tanning. Warning labels are found on every tanning device and almost always in other general areas. Professional tanning facilities care about your teens and require parental consent for teenagers who tan.
Education
By education, we mean teaching the difference between avoidable sunburn and tanning in moderation, both in your favorite sunbed salon and the great outdoors. This is critical to a lifetime of enjoying your travels while not prematurely aging your skin. Outdoors, sunburn prevention is every individual's responsibility young and old alike. Teaching tanners and non-tanners of all ages how to avoid sunburn as a lifelong commitment is one of the professional tanning community's primary objectives.
Parental Involvement/Support
Children are an absolute blessing and childhood vacations (usually) provide a lifetime of fond travel memories. Parents should ultimately decide whether or not their teenager should use a sunbed before heading for the beach or elsewhere. Beyond consent, the parent should be involved in teaching the practice of intelligent sun care; respecting the value of regular UV exposure while teaching sunburn prevention at an early age. Monitor your children's daily exposure and plan other vacation activities and/or downtime while taking a break from the sun.
Skincare and Suntan Summary
In the end, it is always proper to "inspect what you expect" and talk with your regular physician or dermatologist who knows you and your skin. They will have the latest information, not some Sunscreen and Sun Tan Lotion commercial you see strategically slotted during Beach Volleyball at the upcoming Olympics in Rio de Janeiro. Practice common sense and sun safety at all times throughout your lifetime. Short and long-term your skin will be glad you did!
Notice: Exposure to ultraviolet radiation may increase the risk of skin damage, skin cancer and can cause serious eye injury.