Hello, it's Madi again and I'm going to share with you my most beautiful experience in Malaysia. No, it's not the Twin Towers or the white sand beaches of Langkawi, I'm talking about the historical Penang city. Read my ultimate one-and-a-half-day trip to this spectacular city and plan your trip accordingly. Enjoy!
Historical Penang City, Malaysia
Penang is the historical destination of Malaysia that is visited by millions of people every year. This beautiful island is full of artistic and colorful streets, historical buildings, hundreds of years old houses, temples, and delicious cuisines. The major highlight of Penang is George Town that is also a part of the UNESCO World Heritage Site. I wish I had more days to spend in Penang but whatever little time I had here, I tried to visit all the famous touristic spots.
My Travel Experience in Penang
My sister and I arrived in Penang in the afternoon and took a taxi from the airport to our hotel. We decided to stay in Bayview Hotel because of its ideal location in the heart of Georgetown. From the hotel, we had easy access to all main streets, bus stops, malls, and restaurants. After dropping our luggage, we headed off to the bus stop and took bus no. 204 for Penang Hill Train Station.
Kek Lok Si Temple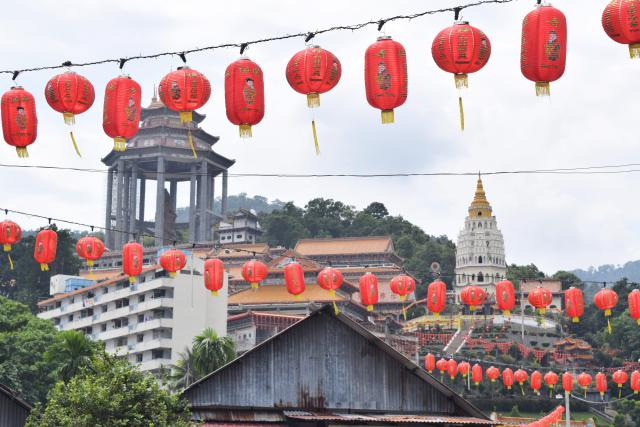 Penang Hill
Penang Hill is the hottest tourist destination of Penang. It's a perfect escape from the city crowd. There are a number of activities to do in Penang Hill including skywalks, a little village, and praying at temples. The Penang Hill Train station offers two tickets to the visitors; one for the fast lane which costs RM 80 (20 USD) and the general lane which costs RM 30 (8 USD). If you buy the general lane ticket, you have to stand in long queues for an hour or half in hot weather before you get on the train whereas, in the fast lane, you don't have to wait at all. Keeping the hot and humid weather in mind, we went for a fast lane ticket and entered into the funicular train without waiting for even a minute.
Funicular Train Track
Penang's funicular train track is the longest in Asia. The train took us up to the hill in about 15 minutes. Upon arrival, we witnessed the spectacular views of Penang city from the viewing deck. After spending some time there, we went to David Brown for lunch which is the highest restaurant in Penang. I opted for the set menu which included an appetizer, main course, and dessert; all in RM 52 (13 USD). It was such an amazing experience having food in the highest restaurant amidst the surreal surrounding of Penang.
There are many beautiful attractions to explore in Penang Hill. We were running short of time, so we only visited the Little Village nearby David Brown's Restaurant. Little Village is followed by Love Arch and Love Walkway for the couples to take pictures and also place love locks that can be purchased at the counter there.
Inside the Little Village, there is a Dwarf Home walkway featuring the seven houses each representing a dwarf from Snow White's Tale. Right near the Little Village, there is a small Bee Gallery from where you can purchase a variety of honey products and souvenirs. It was late afternoon when we took a train back to the train station down the hill.
Art Streets of Georgetown
Shopping and Eating on Art Streets
You cannot leave Penang without exploring the art streets of Georgetown. The town features hundreds of years old Malaysian, Indian, and Chinese buildings and temples. There is India Street which is home to Indian restaurants, shops, and prayer places. China Street in Georgetown is also a must-see attraction; courtesy of its old and colorful temples and houses.
We hired a trishaw ride to explore all the famous street art. Trishaw driver didn't only show us the artistic streets but also let us stop for pictures. He offered friendly local knowledge travel tips and we followed his recommendation to try the famous Hungarian ice cream from Rollney Cafe. We then did some shopping at Pranging Mall before heading back to our hotel.
The next morning, we decided to explore Chew Jetty which is the most famous among the six clan jetties. Chew Jetty is an old Chinese Town consisting of old wooden houses, small shops, and temples constructed by Chinese Immigrants who moved here a long time ago. At the entrance of Chew Jetty, there is an old temple where people celebrate the annual worship of Deity and the Jade Emperor. While you stroll around this small town, you'll notice old shops made inside the houses, herbal clinics, and small restaurants.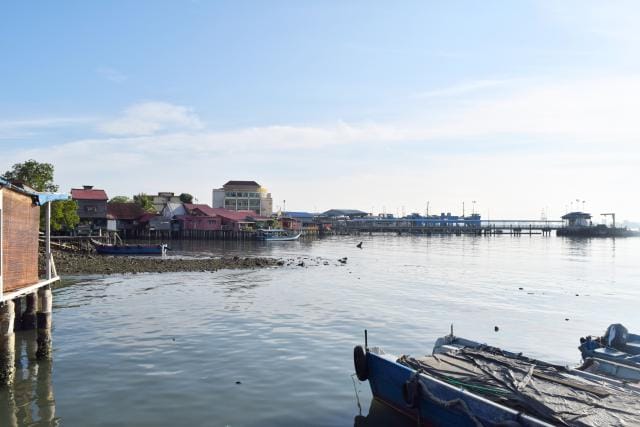 Malaysia's Historic Gem Trip Recap
We saw many houses which had "no photo please" sign on them. From the jetty, we could see the port activities and also witnessed the surreal views of Malacca Straits. After spending an hour exploring Chew Jetty, we walked to Little India Street and had delicious Indian lunch. We made our way back to the hotel and took a taxi to the airport for Kuala Lumpur.
This was the main highlight of my amazing trip to Penang. I wasn't expecting much from this city before I visited but believe me; Penang absolutely blew me away with its historical beauty. It's undoubtedly one of the most attractive places in Malaysia which you should definitely visit at least once in your lifetime.