Malaysia is home to some of the best destinations in the world and one of them is Langkawi. Enjoy this exotic trip filled with travel tips aplenty alongside Skycap News featured guest contributor Madi. Langkawi is the most popular and beautiful island in Malaysia. It is home to stunning scenery, beaches, parks, and exotic nightlife that must be seen to be believed. Take it away, Madi!
Two Days in Langkawi, Malaysia
On my second trip to Malaysia, I decided to explore this gem with my sister. If you are planning to visit this island for only 2 days and cannot think of activities to do there, don't you worry. I'm going to write down a 2-day itinerary of Langkawi based on my personal travel experience. Follow my tour and enjoy the most memorable moments of your life on this spectacular island.
Where to Stay in Langkawi?
Langkawi is home to luxury resorts, hotels, and lodges. We wanted to have a budget vacation, so we decided to stay at Chenang Inn hotel located at 5 minutes of walk from Pantai Cenang Beach. Chenang Inn is a small yet beautiful hotel located amidst the lush greenery. It cost me about 35 USD to stay there for one night. If you don't want to pay a high price for accommodation, I recommend you to book this hotel that is right near Pantai Cenang Beach and Jalan Pantai Street which features a number of shops, malls, and restaurants.
Transportation In Langkawi
You'll see many people driving bikes in Langkawi. You too can hire a bike and drive around the island on your own. For renting a bike, you need to have a driving license. As the weather was too hot when I visited, we decided to hire a car from the airport which cost us only 120 ringgit (30 USD). The main benefit of having a car was; we could easily keep all our shopping bags and other stuff inside without having to worry about carrying it.
DAY 1
We arrived in Langkawi in the evening. We hired a small car from the airport and headed off to our hotel. After relaxing a bit, we strolled around Jalan Pantai Street, had light food, and drove to the night market.
Ayer Hangat – Friday Night Market
Night markets are the main feature of Langkawi which is held every day of the week. The markets usually start at 5 pm and continue until 10 or 11 pm. The primary focus of these markets is food but there are also many stalls featuring souvenirs, clothes, and many other products at cheap prices. It was Ayer Hangat Market day on Friday which was held about 20 minutes away from our hotel. This huge market featured a variety of Malaysian food and desserts including nasi lemak, fried noodles, and chicken satay. Everything was priced between RM 1 and RM 7. There was also a selection of drinks to beat the Langkawi heat.
Langkawi Eagle Square
After fulfilling our hunger cravings with delicious Malaysian food, we headed off to the iconic Eagle Square which features a huge sculpture of an eagle with the name "Langkawi". The reddish-brown eagle is situated amidst the surreal views of the Kuah Bay and Langkawi mountains. We visited Eagle Square and witnessed the sun going down while eating our food which we bought from the market earlier. The area was a bit crowded with tourists at that time.
The square itself is surrounded by a number of shops, malls, parks, ponds, and terraces. After around 2 hours of exploring Eagle Square, we returned to our hotel.
DAY 2
Our second day started off with a scrumptious early lunch at Mumbai Palace which is located on Jalan Pantai Street. After having lunch, we headed off to Kedah for Langkawi SkyCab and SkyBridge adventure.
SkyCab and SkyBridge
The route to Langkawi SkyCab and SkyBridge is through the Oriental Village which is a huge complex containing a large number of souvenir shops, cafes, and famous attractions. There were many different packages for SkyCab and SkyBridge. We selected the basic package for RM 55 (14 USD) which allowed us access to SkyCab and 3D Art Museum.
After waiting for 10 minutes, we got into our cable car. It took us around 15 minutes to reach the top from where we could witness Langkawi Island through Observatory Deck. From the top, the views of Langkawi Island, mountains, rainforests, and waterfalls were absolutely breathtaking. You have to get a separate ticket from there to go to SkyBridge which will cost you only RM 5.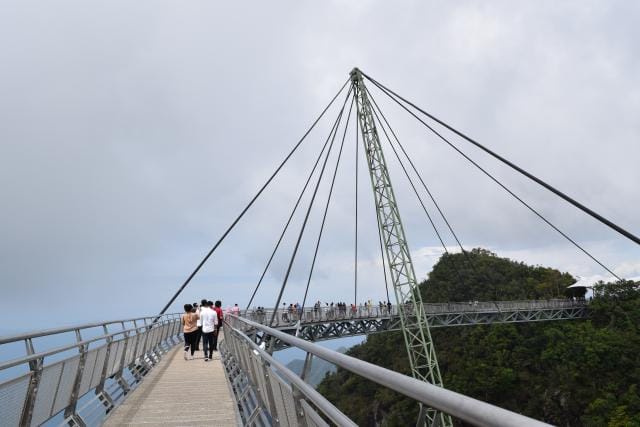 Langkawi SkyBridge is the longest curve suspension bridge in the world that is located more than 700 m above sea level. There is a little hectic walk through the rainforest to the bridge but it's worth the struggle. Take a walk through the bridge and you can see the spectacular highest mountains and island.
3D Art Museum
Located inside the Oriental Village, Langkawi 3D Art in Paradise Museum is the second-largest 3D museum in the world. The museum consists of 3 floors each featuring stunning interactive paintings of various categories such as aquatic, Egyptian, safari, castles, and many others. If you are an art lover like me, I strongly recommend you to visit this museum. There was also a live laser show in the Egyptian section at the end.
Pantai Cenang Beach
Your visit to Langkawi is incomplete without exploring one of its spectacular beaches. The closest to our hotel was Pantai Cenang Beach which is one of the most famous beaches in Langkawi. Unfortunately, it started raining. We were not able to swim but we had a chance to relax there for some time and witness the breathtaking scenery.
After enjoying our delicious Mexican dinner, we made our way back to the hotel. The next morning, we returned our car to the Langkawi airport before taking a flight to our next destination; Penang. Even though we had little time to spend here, it was the most memorable of my life. I definitely plan on staying a few more days here next time when I visit Malaysia.