Cappadocia is one of the hottest destinations of Turkey that is visited by millions every year. This update is penned by special Skycap News™ correspondent Madi. She has quickly become a valued contributor and we are proud to share details of her amazing trip to the historical town, Cappadocia. We hope you enjoy reading her exotic adventures and travel tips as much as we appreciate having her on our team. Now, prepare for liftoff with Madi!
Cappadocia stayed on my bucket list for a long time. This incredible city is known for its fascinating landscape, cave churches, museum, hundreds of years old underground cities, and the famous hot air balloon rides. I always wanted to visit this enchanting town that features stunning volcanic rock formations turned into houses and caves. When I visited Cappadocia for the first time in 2017, I didn't have any idea about what I was going to experience. I did my homework before and everything I found about this town made me even more curious.
Exploring the Historical Town of Cappadocia, Turkey
I took a bus from Antalya to Goreme (a town in Cappadocia) which took about 11 hours. There are also many flights available to Cappadocia from many cities in Turkey. It was a long but exciting bus tour as we got to witness beautiful places on the way. I arrived in Goreme in the late afternoon and headed off to our hotel which was located within a few minutes of walking distance. There were huge hot air balloons floating in the sky at that time.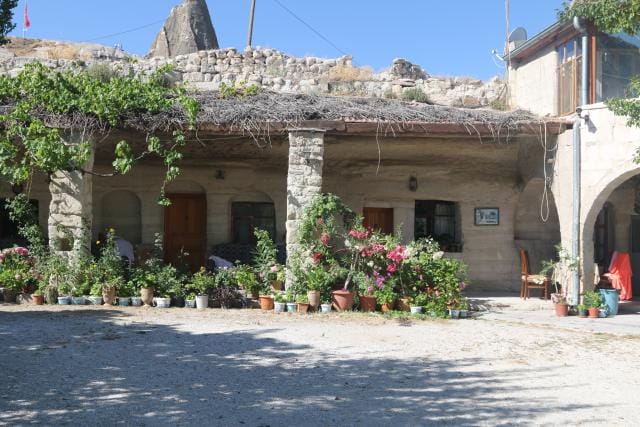 Cappadocia is full of hotels, cave suites, and hostels suiting all kinds of people. They say; you have not truly experienced Cappadocia if you have not stayed in one of its cave hotels. These cave hotels give you a feel of the troglodyte lifestyle with all the amenities such as Hamams and the internet. I booked Nirvana Cave Hotel in advance for me and my 3 friends. Nirvana Hotel is a budget-friendly cave hotel with all the facilities including a large swimming pool on the lawn. Subsequently, we paid $100 USD for two nights for a family room with one double bed and two single beds. Breakfast was also included in this price.
Sunset in Cappadocia
I heard from a lot of people that sunset in Cappadocia is just out of this world. I decided to experience this along with my friends. We strolled around in town witnessing old historical houses and shops until it was sunset time. We made our trek up the hill to the sunset point as guided by the locals for an amazing photo experience. That night, we had pottery kebab (Cappadocia's specialty) for dinner before heading back to our hotel.
I woke up early the next morning for the hot air balloon flight which I booked in advance with Butterfly Balloons. After reading a lot of good reviews about this company, I decided to go with them. My balloon ride was 175 Euro which also included breakfast and hotel transfer.
Cappadocia Hot Air Balloons
Taking a Hot Air Balloon ride is an incredible experience one must do in Cappadocia. It's the best way to witness the magical town of Cappadocia from above. Hot Air Balloon ride is not really cheap but it surely is once in a lifetime experience that is worth the investment. This one-hour balloon flight gives you a chance to witness unique museums, rock formations, and caves from the sky. We also experience the surreal view of the sun rising from the sky. After the flight, a mini celebration was done and we all were presented with certificates. A minibus dropped us back at our hotel. We had breakfast which was already included in the price we paid for our stay.
Our next activity was the green tour. Cappadocia offers Red, Green, and Blue tours; each of them offering different experiences. We booked a Green Tour with a tour company "Bridge of the World" for 45 euro.  A driver picked us up from the hotel in the afternoon and our tour was started. There were also few other passengers present on the bus. Our tour guide introduced herself and informed us about each place in detail.
Cappadocia Tours
Our first stop was Goreme Panoramic view to enjoy the view of the whole Goreme and its fairy chimneys. It was such an amazing sight to watch huge rock formations, caves, and museums from the viewpoint. There was also a wishing tree with blue eye beads tied by people visiting the area.
After spending some time there, we went to Derinkuyu Underground City which is said to be more than 3500 years old. The underground city has 12 floors but only 8 of them are open to the public. Here I'd like to mention that if you are claustrophobic, you must avoid going into it as the floors are about 280 ft. down.
Historic Architecture
I was completely awestruck by the architecture of this underground city which featured storage rooms, bedrooms, churches, halls, stables, and even a winery. It was honestly very hard to imagine the people who lived here in times of war.
Final Thoughts
After the underground city, we made our way to the old castle-shaped Selime Monastery which is located at the end of Ihlara Valley. This rock-shaped huge monastery featured a church, kitchen, quarters of monks, and stables. After strolling around and taking pictures, we had our lunch at Ihlara Star Restaurant before making our way inside the Valley for hiking. We ended our tour at the iconic Pigeon Valley and made our way back to the hotel.
In conclusion, it was an amazing day full of adventure in Cappadocia. The only drawback was that the tour didn't offer us a visit to souvenirs or jewelry shops. However, we were lucky to find some souvenir shops in town at night. Apart from that, everything from the management of the tour to lunch to places was absolutely amazing. Now, onto my next adventure. See you next update!