Aspen, Colorado is well-known for its ski lodges, some of which are legendary in their popularity. People travel hundreds and even thousands of miles to enjoy the ski slopes during the winter ski season. Ski lodges abound in and around Aspen, but there's more to Aspen than just skiing.
Specialty Shops and ASPEN COLORADO MALL: Bringing Back that Small Town Feeling
One of the main reasons people love Aspen is because of all of the specialty shops that line the downtown Aspen area. My dad collects old pens he likes to write with and he went into one of the pen shops in Aspen several years ago. However, it was a bit above his price range. I wish I could go to downtown aspen shopping now with him and buy him one. I may do that soon, now that I am making serious money!
But I digress. There are plenty of specialty shops in downtown Aspen. Featuring everything from Prada to clothing for kids, mostly name-brand merchandise and specialty items. There are antique shops, mall along the walk through town, and artistic displays. When I was there a few years ago, I remember seeing live musicians playing in the streets on cellos and oboes. A site one rarely sees these days. With all of its shopping opportunities and artistic and cultural accents, you could say that Aspen has captured the true spirit of the downtown square culture. In fact, it has preserved it perfectly for other towns to emulate.
Unique Restaurants
Also in Aspen, you will find plenty of unique culinary experiences awaiting you. My father likes German food, so he ordered the Greek meal in a particular restaurant we went to, where I observed that the meat looked "raw." But my father, a very educated man, with a Ph.D., assured me that it was not raw, but was served cold. I had a bit of trouble fitting this into my schemata, to be honest. I was not used to this type of eating. But I did love the authentic surroundings and culture surrounding the place. There are numerous types of restaurants, pubs, and delis all along the streets of Aspen. You can choose whatever type suits your fancy!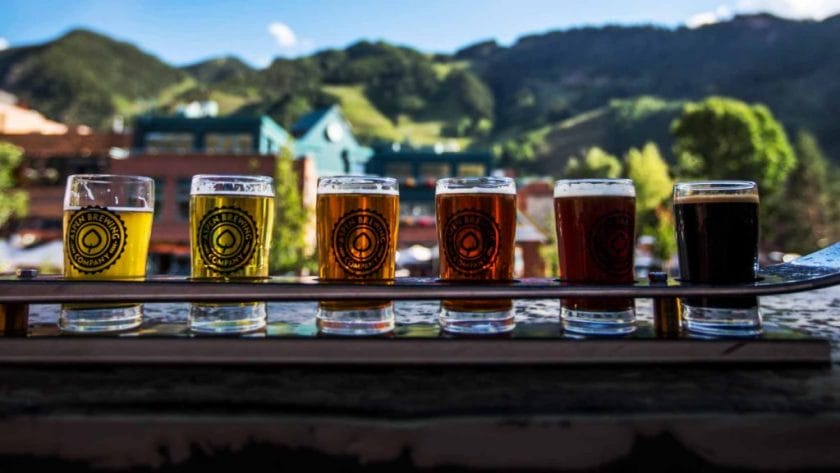 Downtown ASPEN COLORADO Christmas the Way it Was Intended
One of the best times of the year to come to Aspen is during Christmas time! Christmas has already passed this year, but there are other winter holidays coming up. And it's never too early to book for next year. With the beautiful snow-covered mountains that surround the Aspen area, you couldn't ask for a more perfect place to celebrate Christmas, or any occasion in Aspen, Colorado. Local businesses often run specials of different kinds during this time and aspen people are always glad to put on a show to brighten the holiday spirit.
Aspen: Where the Stars Hang Out
Aspen is home to the second house or ranches of several well-known celebrities. One of these is famed Hollywood movie director, Steven Spielberg, who owns a large ranch just outside the Aspen area. Aspen seems to attract the rich and famous because of its unique culture, natural mountainous beauty, and retreat from the rest of the world. *Editors note: As we publish this article, it was just announced that Richard Marx and Daisy Fuentes were married on December 23rd in Aspen. Talk about "Beautiful People!"
No Place for Ordinary in Aspen
On the Aspen Chamber of Commerce website, they have the logo: "This is no place for ordinary." Aspen definitely lives up to this idea, as their many unique and cultural experiences that are unique to Aspen, stand awaiting visitors at any time of the year. One thing is for sure, whether you come to Aspen to shop, celebrate a special event, take in the ski lodges, or just hibernate for the winter, it is truly an experience you will never forget!
What is Aspen Colorado known for?
Aspen is a great destination for winter recreation. During the winter months, Aspen holds one of the most iconic ski events in the world, the X Games. People from around the world come to watch and participate in the Olympic style ski events. Aspen is a great place to spend a winter holiday and provides a unique experience that most other places in the world can't.
Is Aspen Colorado worth visiting?
For all of you who have visited Aspen, it might seem like a ridiculous question. Aspen, is a beautiful place and a lot of people visit here and enjoy the beauty of nature. But, if you have never been to Aspen, I would recommend you to go here at least once. You will not regret it, I assure you. I have been here only a few times, but the experience was just amazing. I didn't have to go anywhere else after I visited this place once.