Sri Lanka is one of the most suitable places in Asia for going on Safaris and witnessing wildlife. With an excellent tourism infrastructure, Sri Lanka is also one of the best destinations that all-rounds wildlife, marine life, and landscapes. Sri Lanka holds its natural bounty with great pride; large areas of land have been preserved as sanctuaries in this small Island country for over 2000 years.
There are at least 100 areas of protected land across the country. Thus, below are a few picks of some of the best destinations that are highly rated for being among the top 3 safaris in Sri Lanka, where you can witness some of the best wildlife.
Yala National Safaris in Sri Lanka
The Yala National Park is located in the South East of Sri Lanka. This destination is a lowland dry scrub that sits on a long stretch of coastline with rocky outcrops. This national park is one of the best places to see some of the most famous mammals of Asia and is the largest national park in the entire country.
Speaking of mammals, the Sri Lankan leopard is one particular animal that the Yala National Park is famous for. This leopard is a type of sub-species that is endemic to the country. They are prevalent here to the point that the average leopard density can be compared to the number of cats in every square kilometer. Other than leopards, during the months of June and July, when the Palu trees begin to bear fruit, you will even be able to spot many sloth bears. Observing them quietly during this time is best not to scare them off.
Some other animals you will encounter during the safari include; the spotted dear, Sambar, wild pig, buffalo, stripe necked and ruddy mongoose, toque monkey, langur monkey, Indian palm civet, and the golden jackal. You will come across not only animals but also various birds. This is because the combination of freshwater, scrub, marine, and woodland areas of the park ensures the existence of a wide variety of birds. Overall, the park consists of 220 different types of birds, and it has been recorded by serious twitchers at least 100 species in one day.
The best time to visit the Yala National Park is throughout the year except for September and October, as the park closes for maintenance during this time. You can spot all these animals any time of the year, but specifically, during the dry season, it increases your chances as the water levels reduce and the animals visit the lagoons to drink. Overall, this particular safari is an excellent option for anyone interested in spotting leopards and birds. But keep in mind; it tends to get a bit crowded due to its popularity, so you should start the safari as early as possible.
Udawalawe National Park Safari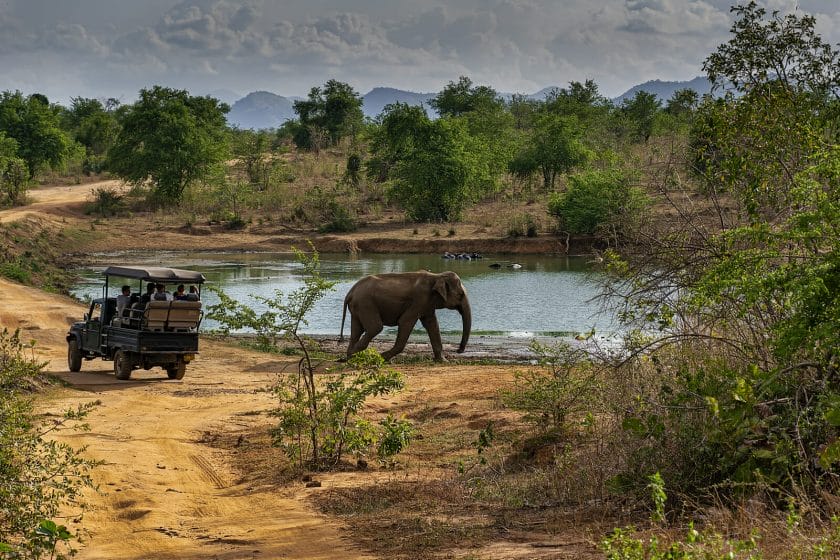 Udawalawa National Park is located on the Southern side of Sri Lanka, a well-known spot for witnessing Elephants. This particular national park was created to protect the watershed of the large Udawalawe reservoir, and it consists of a scrub jungle and extensive stretches of grassland along with riverine. It is hands down one of the best places in Sri Lanka to see elephants throughout the year, as it is home to over 100 elephants.
During the Udawalawa National Park safari, there's a high chance that you will come across female elephants moving in herds or bathing in the wild. As many people say, there's no better place to observe the beauty of animals than when they're in their natural habitat. Besides elephants, this place is full of various birds, including the changeable hawk-eagle, grey-headed fish eagle, and serpent eagle.
Even though leopards are less common here than in Yala National Park, you can still spot a few during the safari. Most of the time, they stay resting on trees, so make sure to keep an eye out. Speaking about other animals, the Udawalawe National Park is also home to beautiful Peacocks, owls, deer, and different types of squirrels. But overall, the safari is full of surprises as you never know what you come across.
A typical safari in Udawalawe will take you around 2-3 hours, but it's recommended that you start in the early morning as this is when the animals come out, and it's also less sunny. In short, a Udawalawe national park safari is an excellent option for anyone looking forward to witnessing elephants. And if you're looking for a safari with a lesser crowd, this one is for you!
Wasgamuwa National Park Safari
The Wasgamuwa National Park is situated in the North-central province of Sri Lanka and was created in 1984 as a refuge for wild animals. This park is well known for its riverine evergreen grasslands and forest. It consists of 23 species of mammals, including marsh elephants, 150 floral species, eight amphibians, 143 species of birds along with eight endemics, 50 species of butterflies along with eight endemics, and 17 reptiles.
During the safari, you will come across miniature versions of pools with crocodiles, pythons, and other types of reptiles swimming around while the aquatic birds dip themselves in the pool. And one of the best parts is there's a high chance you will come across elephants chewing on green leaves in the open areas. If you love photography, don't forget to take a few snaps for its Facebook and Instagram picture-worthy. Elephants are quite common here as the Wasgamuwa National Park is home to 150 giant elephants, so you will always come across them.
Not only is this park full of elephants, but it also possesses an abundance of bears and is well known for having the most significant number of bears compared to other parts of Sri Lanka. In this park, you will also come across spotted deers, Sambars, Mugger crocodiles, purple-faced langur monkeys, water buffalos, leopards, the Yellow-fronted barbet that is native to Sri Lanka, and various types of birds, including tiny villus, peacocks, the purple heron, and more.
A visit to this park will feel more like an escape to the wild than a typical vacation. You will find yourself in the middle of some of the most spectacular forests as you feel yourself absorb the soothing sounds of nature. So Pack your bags and head to Wasgamuwa National Park for a once-in-a-lifetime experience.