InterContinental Kansas City at the Plaza is the quintessential Midwest hotel located on the corner of one of Kansas City's most stylish and historic shopping, dining and entertainment districts, the Country Club Plaza.
The Plaza is fifteen (15) blocks of Seville (Spanish) inspired architectural influence, amazing fountains, beautiful sculptures, quiet courtyards, and yearly festivals that are truly remarkable even to the most seasoned traveler, especially during the "Plaza Lighting Ceremony!" Let's take a trip down memory lane and go back to 1989 when this author was attending William Jewell College and witnessed this event first-hand. Note, the "old school" commercials during this well-preserved video. Enjoy!
Opened in 1972 as the Alameda Plaza has stood the test of time with stints as a Fairmont and Ritz Carlton along the way. This award-winning resort created its legacy as a modern-day landmark. Proudly built in the "City of Fountains," the InterContinental Kansas City is widely recognized and acknowledged for its superiority, old-world charm, well-appointed design, and distinguished physical beauty. This property is the perfect lodging destination for individual company travel, weekend escapes, family vacations, a storybook wedding, productive corporate meetings, or even an intimate getaway.
Guests will be captivated by the best of all worlds traditional meets urban vibe of both guest rooms and public spaces. Accommodations are tastefully appointed and extremely comfortable. Without question, the InterContinental offers some of the best hotel rooms available in the Midwest. In addition to a terrific night's sleep, many seek relaxation by lounging around the InterContinental's outdoor heated pool which takes you to a place of peace and tranquility. . . or poolside frivolity depending on your mood and purpose of the trip.
For the first-time visitor, Kansas City surprisingly offers plenty of choices that encompasses everything from local to high-end. Pleasant surprises can be discovered along each block, from quaint boutiques to fine jewelry, couture clothiers, fashionable salons, and delightful chocolatiers. Shoppers will experience world-class shopping from Kate Spade New York, L'Occitane, Michael Kors and Tiffany & Co. Kansas City-based businesses such as Baldwin KC, Tivol and local favorite Topsy's Popcorn Shoppe set this area apart from other shopping districts throughout the world.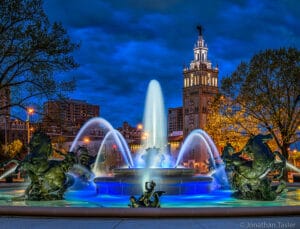 The Plaza dining experience ranges from reasonably priced "hamburger joint" Winstead's to higher-end American cuisine Houston's, Fiorella's Jack Stack Barbeque, Gram & Dun to higher-priced (but, worth it) Plaza III The Steakhouse and The Club At Plaza III. Rest assured, the Plaza area offers everything desired for high-level corporate business functions, romantic candle-lit dinners coupled with over-the-top service to late-night party goers should the need arise to "let off some steam." There are so many great places within walking distance of the InterContinental, we might have to write an upcoming feature story on the many possibilities. . . and don't even get us started on local Kansas City BBQ. While some are not quite walking (besides Jack Stack) distance they are most worthy of a cab ride or drive to enjoy some of the best the world has to offer!
Should you find yourself exhausted from the day, the InterContinental Kansas City culinary team prepares and present scrumptious cuisine having a comfy, hearty Midwest flair. Savory steaks, chops, pasta, and seafood can be enjoyed while listening to music in the beautiful confines of the Walnut Room. For those of you fortunate enough to book a room (or receive an upgrade) on the concierge floor, enjoy the hospitality of Melanie and Craig as they truly provide world-class customer service. Their "local knowledge" and friendly demeanor will no doubt encourage a return trip to this particular InterContinental property.
The staff at Skycapnews.com gives the InterContinental Kansas City at the Plaza Hotel the highest level of praise from arrival to departure. If you are searching to find the best hotel while in the Kansas City area, please do not hesitate to book this prestigious property. Safe Travels!