Scotland is full of lochs and legends, whiskey, and haggis. This rugged land is full of castles, highlands, and lowlands. The people are friendly, and the drinks are good. Edinburgh is the capital of the country and full of activity. While you could spend your entire trip exploring your way through Edinburgh, there are so many exciting sights to see just a few hours outside of the city that is steeped in history and natural beauty. Prepare to pack your bags as the Skycap News™ team recommends some of the best Edinburgh day trips.
Loch Lomond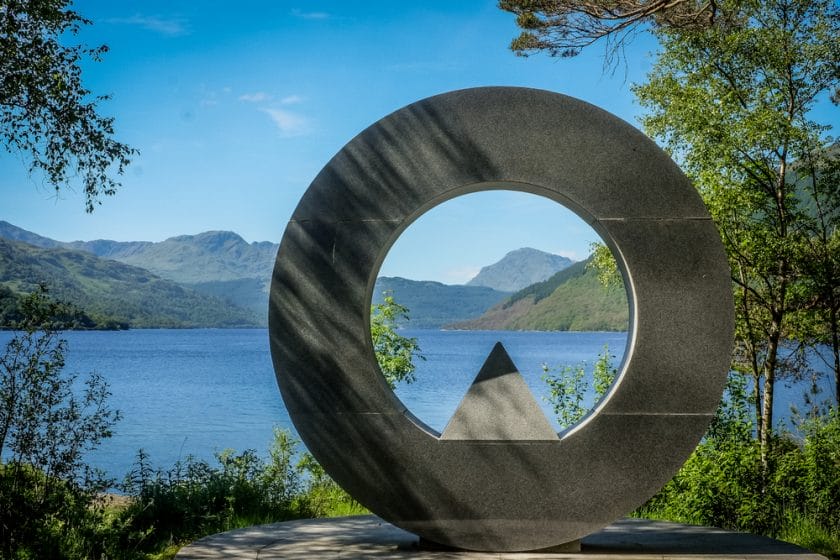 "By yon bonnie banks and by yon bonnie braes, where the sun shines bright on Loch Lomond."
This is the opening line of an old Scottish folk song. Loch Lomond is Scotland's largest loch and is part of the Loch Lomond and Trossachs National Park. You could definitely spend more than one day here, but if you are looking to spend a day outside the city in the wilderness, this is definitely the spot to go. There are many paid tours you can pick up in Edinburgh to take you here. Otherwise, you can take a train to Glasgow and then catch a train to Loch Lomond.
The perfect stop to spend your day at Loch Lomond is in the town of Balloch. This village is at the south shore of Loch Lomond. Here you can pick up the Waterbus or ferry services to explore other areas of the lake. Otherwise, you can walk along the Balloch Castle Country Park. While walking to the location, you can take in the fantastic views of Loch Lomond and enjoy the fresh air.
If you still have time left in your day, the conservation town of Luss is nearby and is a beautiful addition to your trip. A few walks and even a water taxi to Luss Pier are available. There are also bikes and boats available for rent or cruises you can take for your day trip at Loch Lomond.
Pitlochry
Pitlochry has so much to offer – whisky, amazing views, history, castles, and standing stones. This is a definite must-stop during your next trip to Scotland. This quaint town is about 70 miles north of Edinburgh and has been a frequent stop on the way to the highlands since the Victorian Era.
The town is accessible via highway and rail, making it a convenient day trip outside Edinburgh. However, the town does have a lot to offer, so you could even decide to stay at one of the many bed and breakfasts if you so choose.
Walking around the town itself is a beautiful sight. The buildings are a beautiful mix of black and white. As soon as you make it to the River Tummel, you can head over to the Pitlochry Dam Visitor Centre and learn more about it and have a unique viewpoint.
If you like testing different alcohol, Pitlochry has two distilleries – Blair Athol Distillery and Edradour Distillery. There are also several restaurants in the town that you try – definitely treat yourself to some fish and chips at McKay's.
Pitlochry also has many independent shops selling local goods – not just tourist gifts. The best advice is to just walk around the town and window shop until you find something that interests you.
Queen's View
Located just outside of Pitlochry is the famous Queens View lookout. This famous vantage point has western views along Loch Tummel, where you can sometimes see Glencoe near the West Coast. This has been a popular destination since the Victorian Era. Many believe that this location was named after Queen Victoria, who visited in 1866. Still, it is more widely believed to be named after Queen Isabella, the 14th-century wife of Robert the Bruce, according to the town of Pitlochry. This location is the perfect stop for your day trip outside of Edinburgh!
Stirling Castle
Only an hour's train ride from Edinburgh is the beautiful Stirling Castle – the site of some of the most significant history of Scotland. For example, in 1297, William Wallace beat the English at Stirling, and once you're there, you'll be able to explore the history too.
Stirling Castle stands proudly on a hillside, and the parts you see today have survived mainly from the 15th and 16th centuries though there are some preserved areas from earlier periods. This Castle has witnessed many historical events as Mary, Queen of Scots, was crowned as a baby. There have been at least eight sieges of Stirling Castle, the last being that of Bonnie Prince Charlie during the Wars of Scottish Independence.
National Wallace Monument
The National Wallace Monument is a 67-meter tower on a hilltop overlooking Stirling in Scotland, commemorating Sir William Wallace. The tower is open for an admission fee, but visitors can approach the statue's base from the shoulder of Abbey Craig. While the town is small, this is definitely another excellent day trip outside of the capital city of Edinburgh to take while you are visiting Scotland.
Edinburgh Day Trip Recap
Scotland is a one-of-a-kind country that you are almost guaranteed to fall in love with – between the warm people, rugged landscapes, and historic castles, you are destined to have a fantastic time on one of your day trips outside of Edinburgh, Scotland.
FAQs
Can you do a day trip to Edinburgh?
Absolutely! Give yourself at least one full day in Edinburgh, take a tour around the city, walk around the Royal Mile, check out the castle, hit up some pubs and bars, and eat some good food. Edinburgh is also a stop on the famous "Caledonian Sleeper" train, which takes you to and from London in 8 hours. So you can spend a night in Scotland's capitol and be back to London in time for dinner!
How far is Loch Ness from Edinburgh by train?
Loch Ness is located in the Scottish Highlands and is the largest body of water in Scotland. The nearest station to Loch Ness is the Inverness Station, which is located in the city of Inverness, which is 54 km away from the Loch Ness. The Edinburgh Station is located in the capital city of Scotland, which is Edinburgh and is around 100 km away from the Loch Ness. By train, both the cities are connected.
How do you spend time in Edinburgh?
There is plenty to do in Edinburgh. If you are a history buff, you can visit the Palace of Holyroodhouse, the Queen's official residence in Scotland. In the summer, the castle grounds become a very popular tourist attraction. A hike up Arthur's Seat is also a good idea if you want to get some good pictures of the city. Ride a bike around the city and enjoy the view.