Recently Sri Lanka has been put in the spotlight for being on the list of "Top Travel Destinations." Are you thinking to yourself "Why should I visit Sri Lanka and what can I do there?" Well, the answer to your question is Sri Lanka has something to offer for nearly every traveler. If you love the outdoors Sri Lanka has some of the best hiking trails, waterfalls, tea plantations, and more. If you love the indoors, Sri Lanka has some amazing boutiques as well as luxury hotels with beautiful spas. Do you love the sea and surfing? Well, that's why Sri Lanka has spectacular beaches. Sri Lanka is a great place for wildlife enthusiasts, water sports lovers, and is also a haven for history buffs.
Besides the aforementioned attributes, this exotic island formerly known as Ceylon is without question, bucket-list worthy. Below are Five (5) reasons why Sri Lanka should be your next travel destination. So pack your bags, put on your seat belt, charge your cell phone (or digital camera battery) and get ready for this joyful written journey through Sri Lanka.
Top Reasons to Consider Sri Lanka Travel
World Cultural Heritage Sites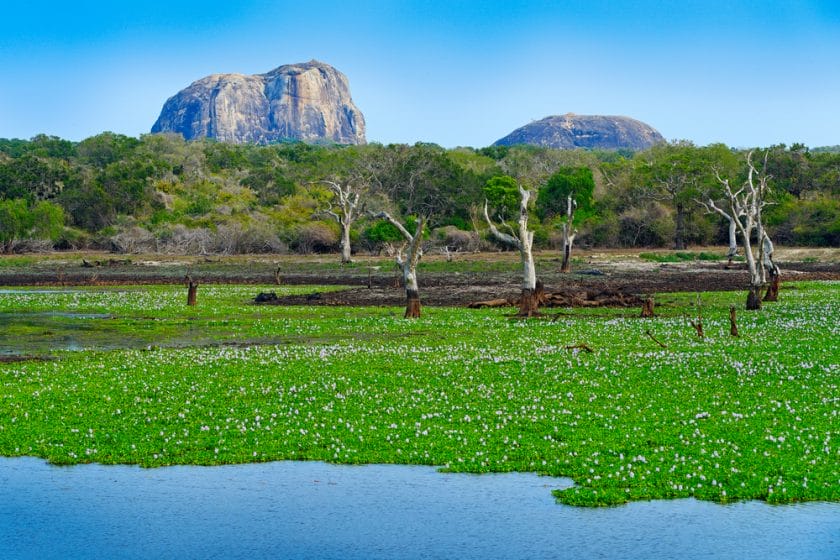 Even though Sri Lanka is one of the smallest countries in the Asia Pacific region, it is home to 6 beautiful UNESCO-protected cultural heritage sites. For example, if you want to marvel at a magnificent palace, try visiting the ancient rock fortress, Sigiriya. To discover the famous Temple of the Tooth, visit the sacred city, Kandy. To check out the largest and best-preserved cave temple of Sri Lanka, visit the Dambulla cave temple. Every one of these heritage sites reflects a majestic history and is absolutely gorgeous. Above all, if you're a culture lover, Sri Lanka travel must be at the top of your list.
Tropical Climate
First and foremost, the tropical climate of Sri Lanka works in favor of travelers. This means a sunny climate is quite common here. Sri Lanka has two monsoons seasons, during this time it affects different parts of the country during different months. Between May and July Sri Lanka experiences the southwest monsoon which means there is no rain in the North. This makes it the best time to explore this area. Between October and January, Sri Lanka experiences the Northeast monsoon leaving the South full of Sun and no rain. This allows for much easier travel to explore places such as Koggala Beach in the South where you can enjoy Sri Lanka stilt fisherman in action!
Gorgeous Landscapes and Hiking Trails
The abundance of flora and fauna in Sri Lanka indicates that it has beautiful nature trails with stunning waterfalls, tea estates, paddy fields, misty mountains. Be on the lookout for the occasional peacock and deer crossing paths. Beginners in hiking should definitely try hiking the Demodara Rail Hike which goes through the Nine Arc Bridge. But if you're an experienced hiker try hiking the Knuckles Mountain Range which is one of the most beautiful hiking trails in the entire country.

Sri Lankan Wildlife
With an abundance of whales, birds, elephants, and leopards, Sri Lanka is one of the best countries in Asia for seeing wildlife. Further, Sri Lanka has 26 national parks and one of the best parks in the country is the Yala National Park. This park boasts having the highest density of leopards in the world and 215 species of birds. The Udawalawe National Park is also famous for having a large number of elephants as well as rare birds that are only present in Sri Lanka. Whereas, if you're interested in marine life, you can do that as well by visiting Pigeon Island that is full of marine life such as hundreds of colorful corals, and 300 species of reef fish that make this place a great spot for snorkeling.
Crystal Blue Beaches
Sri Lanka's coastlines are some of the most pristine in the world. Many, with turquoise waters and unspoiled sandy beaches with tall palm trees. Mirissa has some of the best beaches in Sri Lanka for sunbathing in a peaceful environment. Whereas, Unawatuna is well known for its beach parties. But if you're an adrenaline junkie you will absolutely enjoy the beaches of Bentota with its various beach activities such as kite surfing, Para-cycling, and more.
Sri Lanka Travel Recap
These are some of the top reasons why Sri Lanka should be your next travel destination. But only if you visit Sri Lanka, you will be able to fully capture and understand the reasons for its captivating beauty and experience the untouched and pure paradise island for yourself. So don't wait any longer, book a plane ticket and fly to Sri Lanka for an amazing adventure awaits you. Tell your new friends in Sri Lanka that Sarah sent you!