If you long for a mystery that includes mile-long hallways and staircases that open up into walls, this is the place for you. Looking like something from a Stephen King novel, this Victorian mansion with multiple mazes has over 160 rooms.
Winchester Mystery House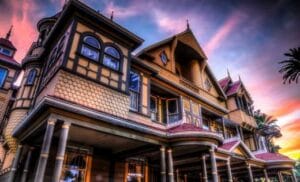 The Story Behind the Legend
There is often a story behind such a house and indeed there is! The home was built by the wealthy widow of William Winchester. Sarah Winchester was her name. She lost her daughter and husband to a strange illness and sought out the help of a medium. The medium told her that she was cursed and the house was cursed and that she would be haunted by numerous spirits throughout the house from then on, and thus a legend and story was born.
The medium further explained to Sarah that, the only way to keep the spirits at bay, would have to keep building onto the house! For almost 40 years, the building continued until Sarah died.
The Tourist Attraction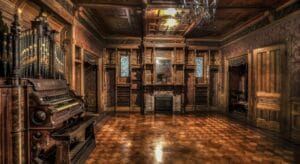 As often happens from such stories and strange-looking houses, the Winchester house is now considered one of the best tourist opportunities in the greater San Jose area. On Friday, the 13th, the House offers special flashlight tours, where visitors can explore every aspect and room of the strange mansion, where the original owner was convinced that spirits roamed to and fro among the house. Some visitors report seeing an "Unlucky 13" sketched in the house's carpentry as if to forewarn visitors, which adds to the tourist hype.
The Winchester Mystery House Website
The website for the Winchester Mystery House offers a wide variety of activities and special events, and they invited visitors to share their ghost stories online or sign up for guided video tours. The house features 40 staircases, so just thinking about this makes me dizzy!
Is Winchester Mystery House Worth the Time?
This writer thinks it's definitely intriguing, especially the idea of visiting a house with so many rooms that you might not find your way out of them. There's something about a house that seems to invite us to know more. Freud believed that the house is a symbol of the mind, so if we enter a house in a dream, we are looking inside our own minds. I'm not sure if that is always true, but it is definitely worth looking into this strange and interesting house that sits in the middle of the town in San Jose, California.
Winchester House Wrap Up
For more information about their guided tours, visit the Winchester Mystery House main website. For info on other scenic places to travel and other things to do while in San Jose, visit: http://www.sanjoseca.gov. Don't forget that San Jose is also the home of the famous "Silicon Valley," where Steve Jobs and Bill Gates both got their start, as well as Google's early foundations and many other modern-day technology empires, which are still there today. Whatever your taste, you'll find something worth seeing in San Jose, CA.
…"the house itself was evil now." {paraphrased from "The Fall of the House of Usher"}